MailBurstTM: Options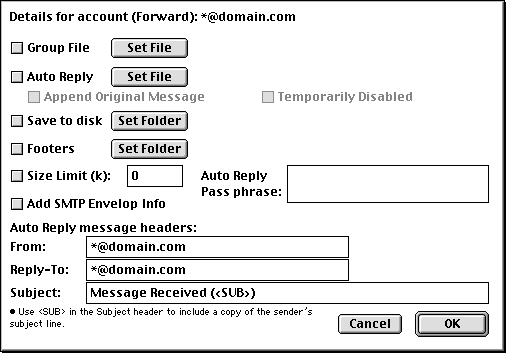 The options screen shows account specific information for each incoming address. You can:
Configure a Group file that contains a set of email addresses, one per line that you'd like to get a copy of a message. Group file lists may exceed the 255 email address limit of a forward destination list and work fine work with any number of addresses. Using a group file is identical to using the drop folder, and is simpler since MailBurst automates the creation of the file you would place in the MailBurst:drop folder.
Configure an Auto Reply file that will be sent back on receipt of mail to an address (and optionally append a copy of the original message).
Save the message into a folder
Reject messages larger than a certain size
Set a pass phrase (currently only used for remote updating of the Auto Reply message)
Set custom From, Reply-To, and Subject headers for messages (note that the original subject can be included in the custom subject).
More on Auto Replies
To update an Auto Reply message remotely, send a message with a subject of "Change AutoReply PassPhrase". This will lead the program to replace the contents of the existing file with the body of the mail message. The old message will be sent back and all normal notification messages will be sent.
To disable remote updating, do not enter a pass phrase.
Note that you can also use one address for auto replies and a second address to remotely update the auto reply if both accounts point to the same file. This way, users will not necessarily know the address used to update the file remotely.
Lastly, auto reply messages are not sent to messages that have a precedence of junk, bulk, or list, or error messages sent from mail servers.
Warning:
This means of remote updating the auto reply file is far from secure. If users desire, we will add a more secure method, that minimally avoids transmitting the password across the internet.
© 1999-2001 Dantowitz Consulting & Research, Inc.